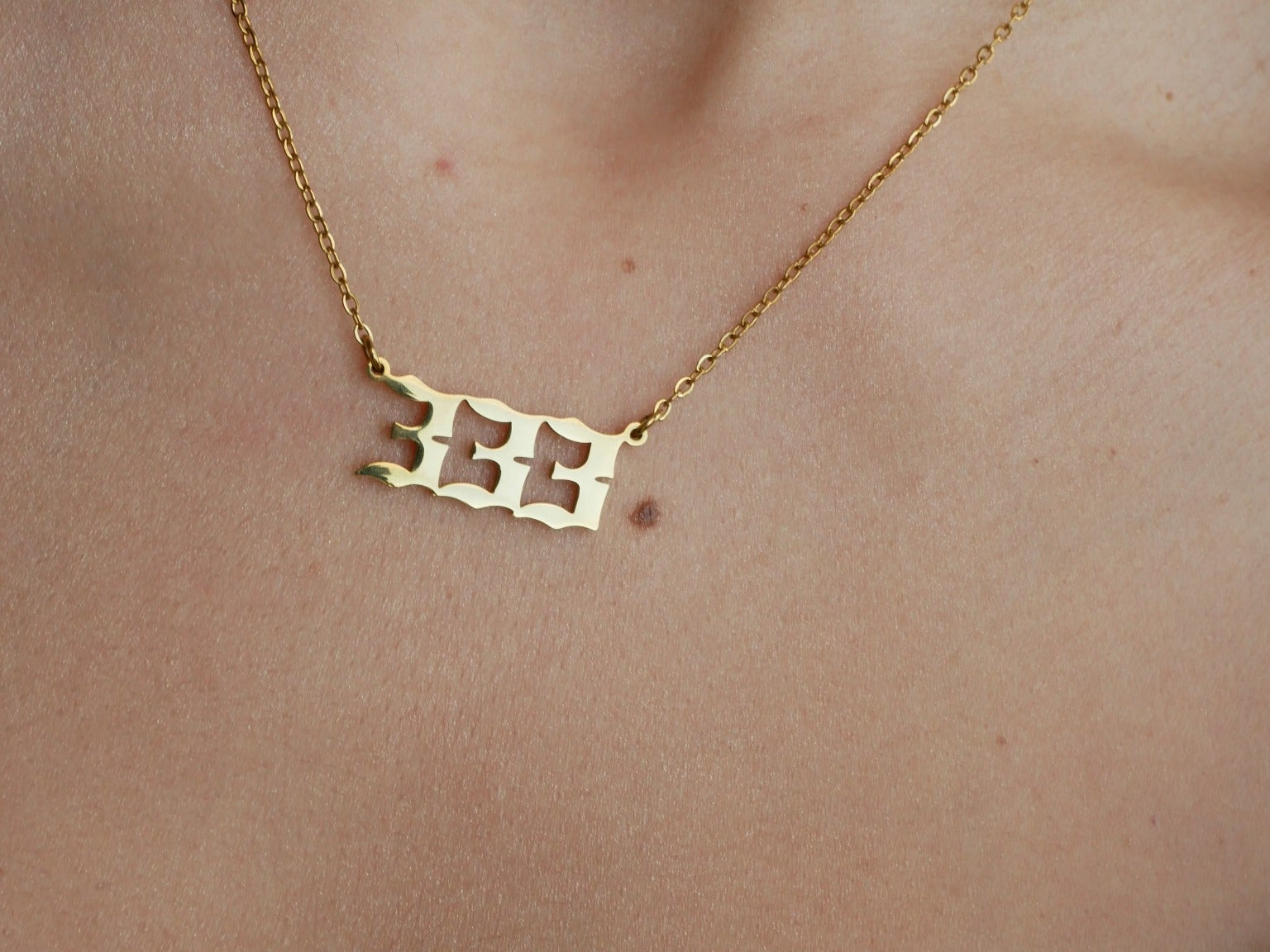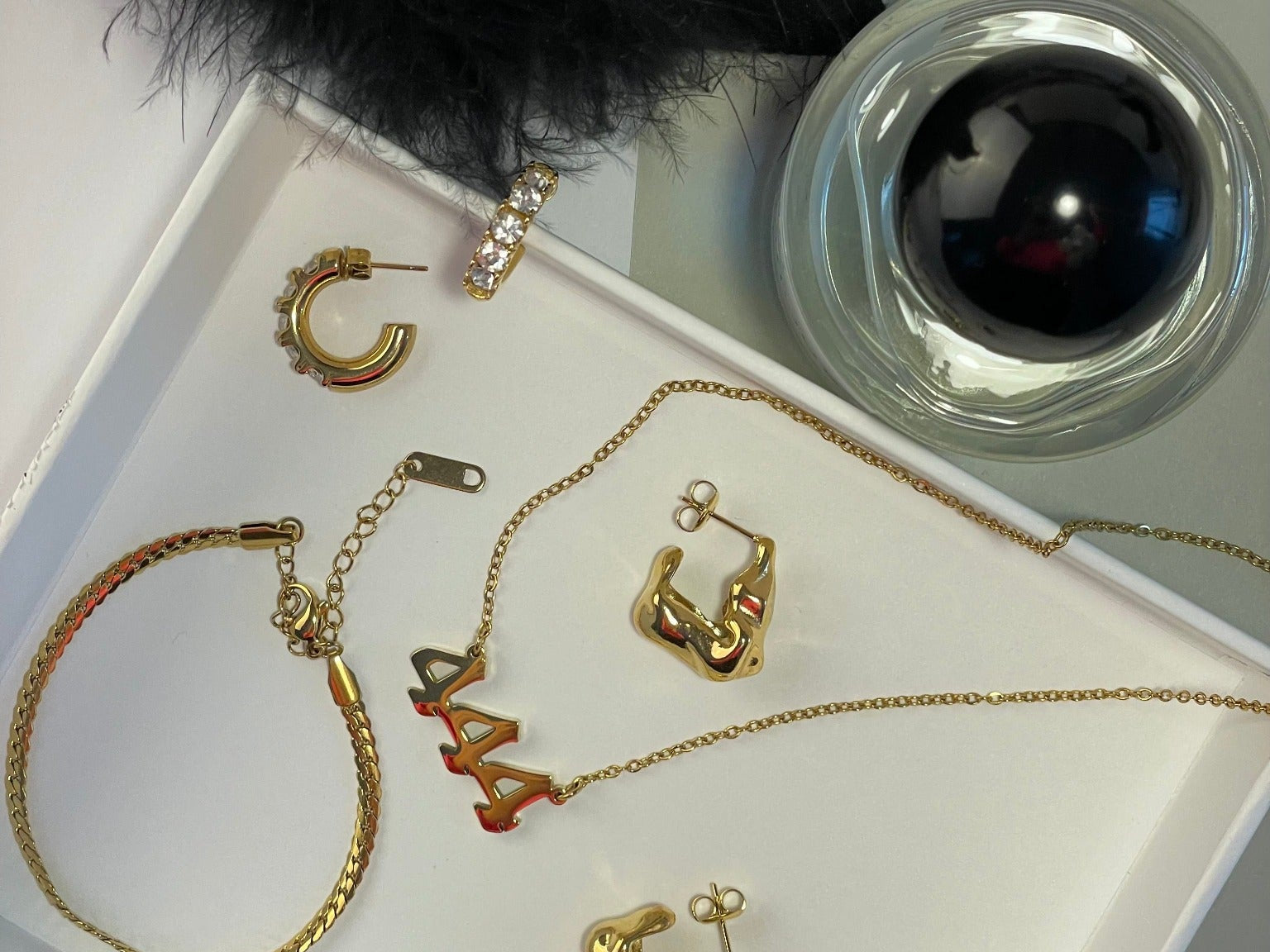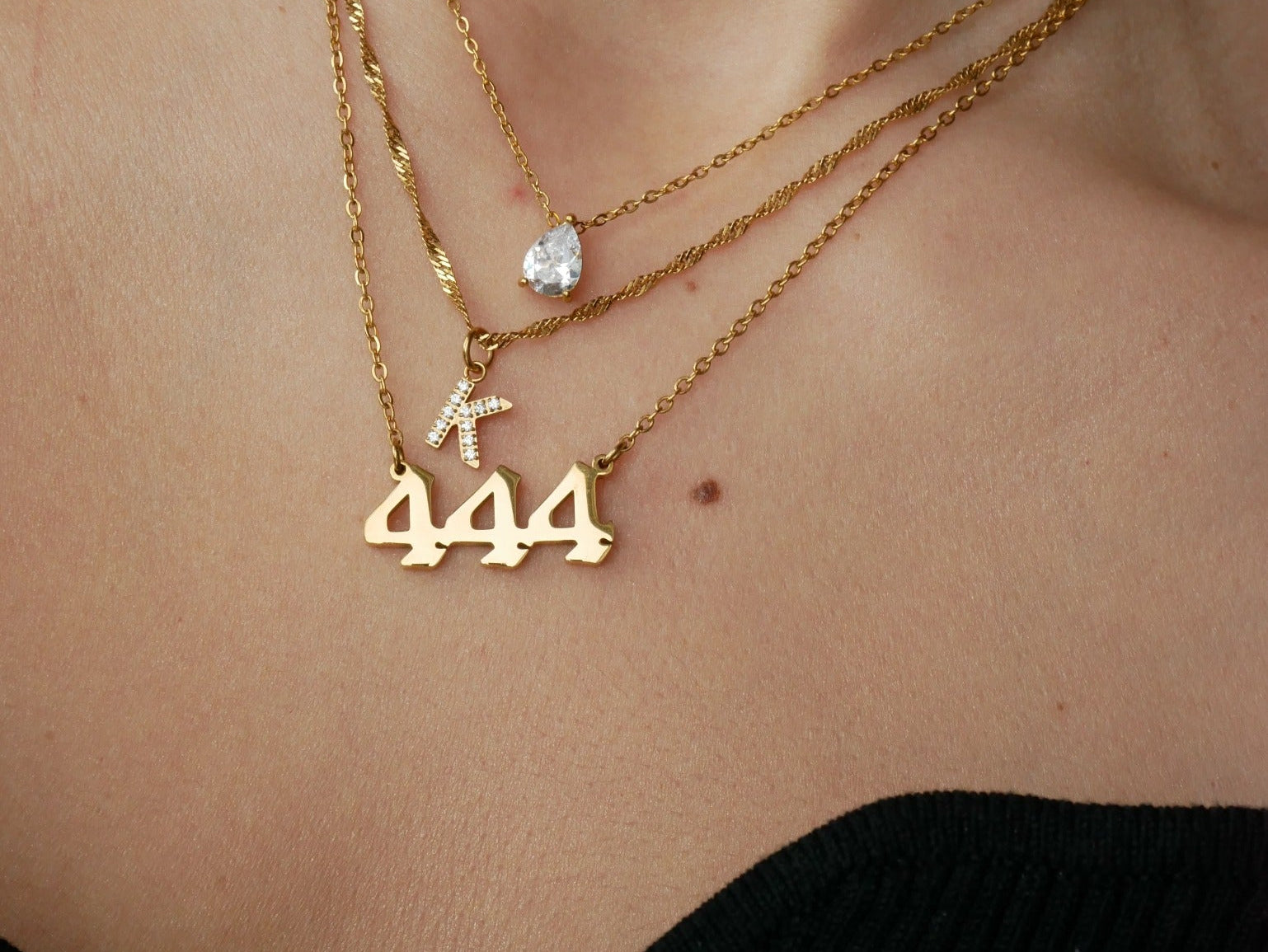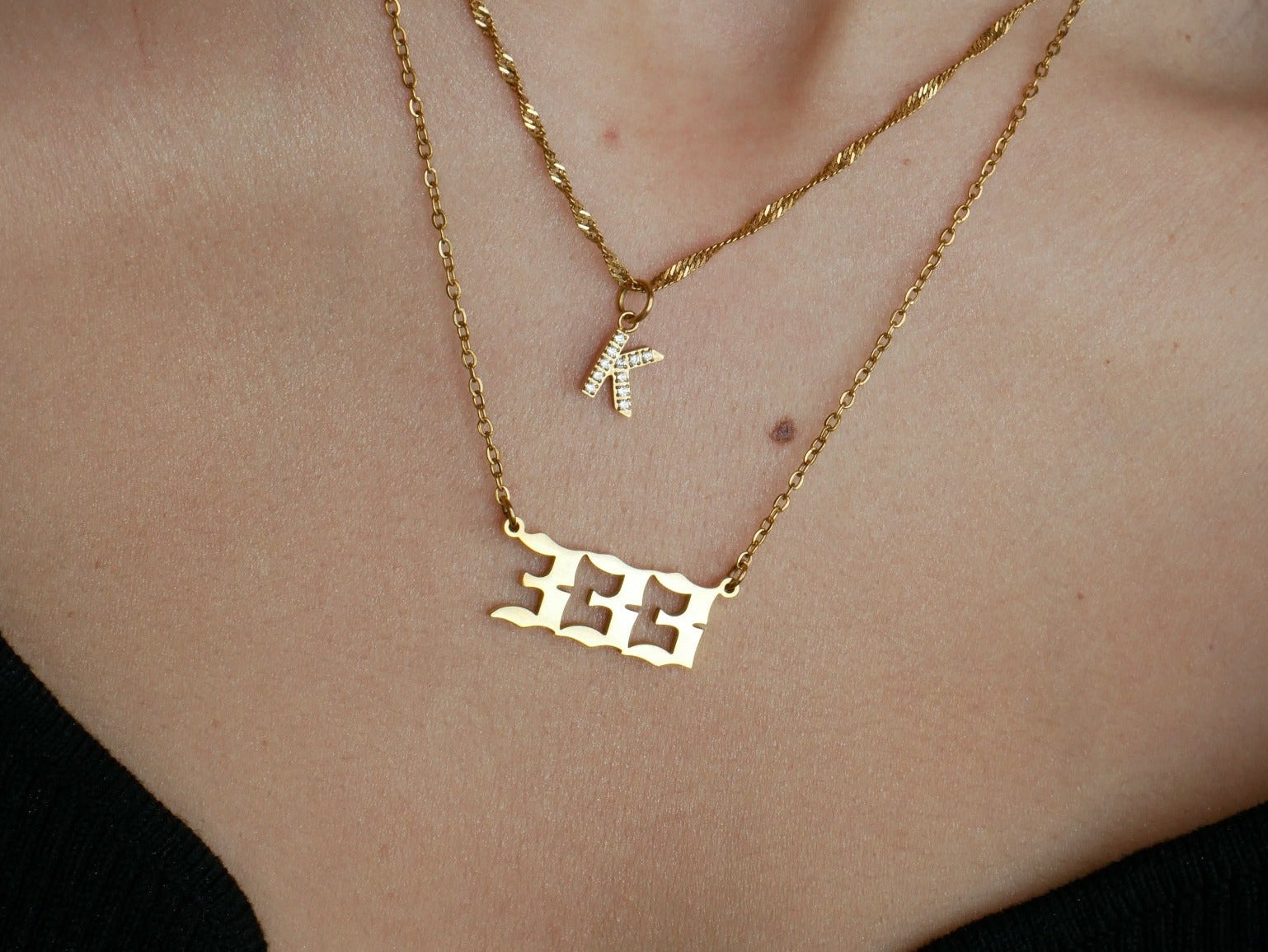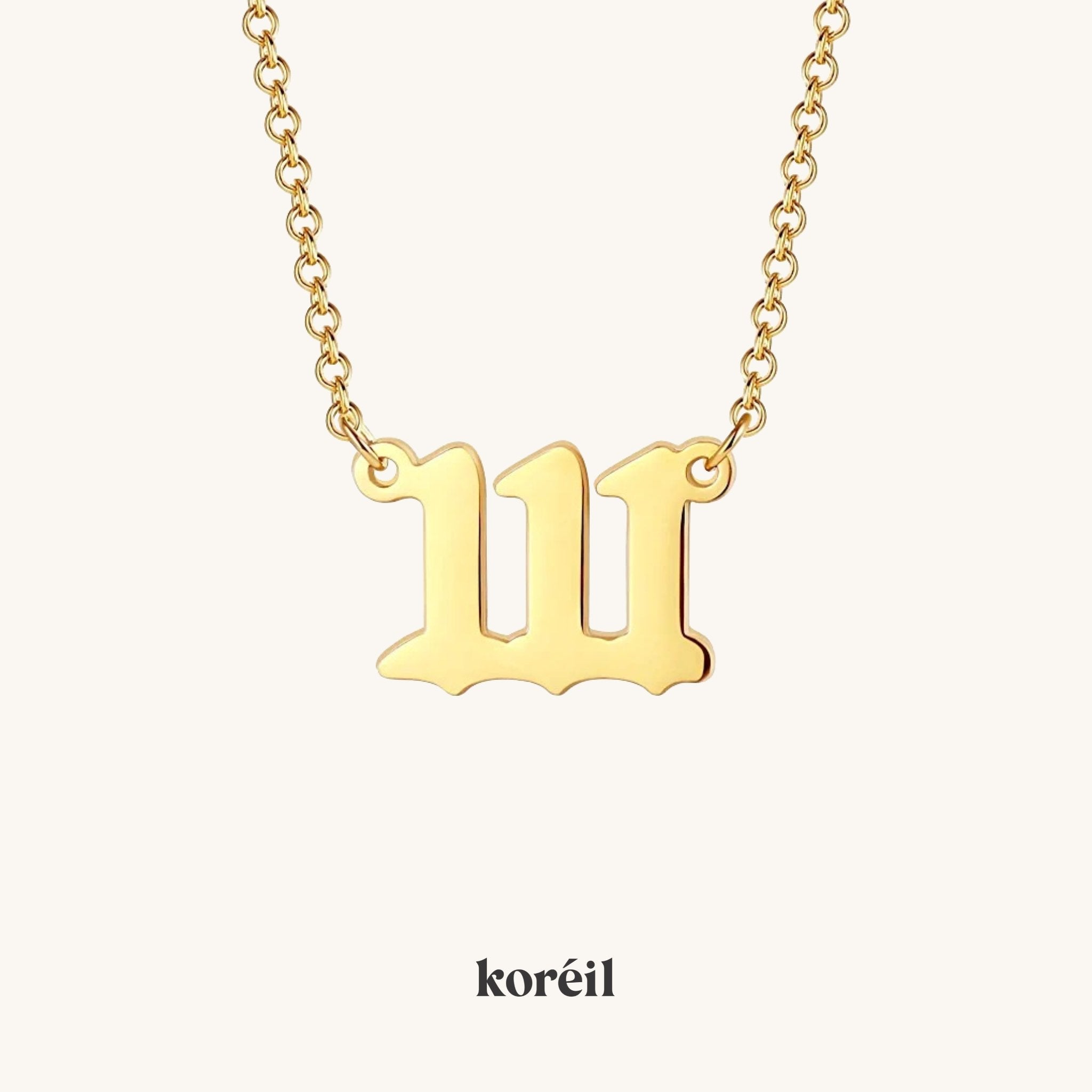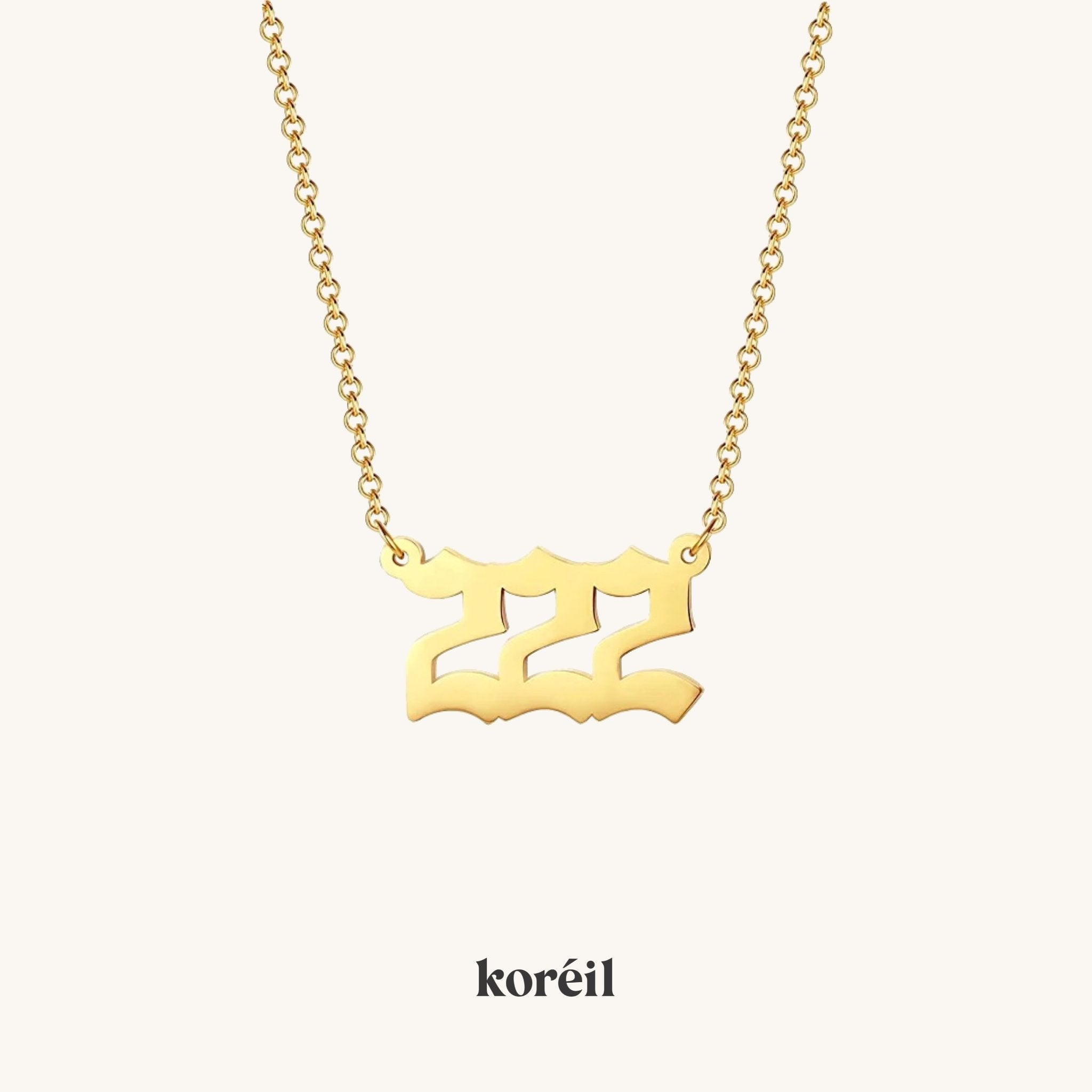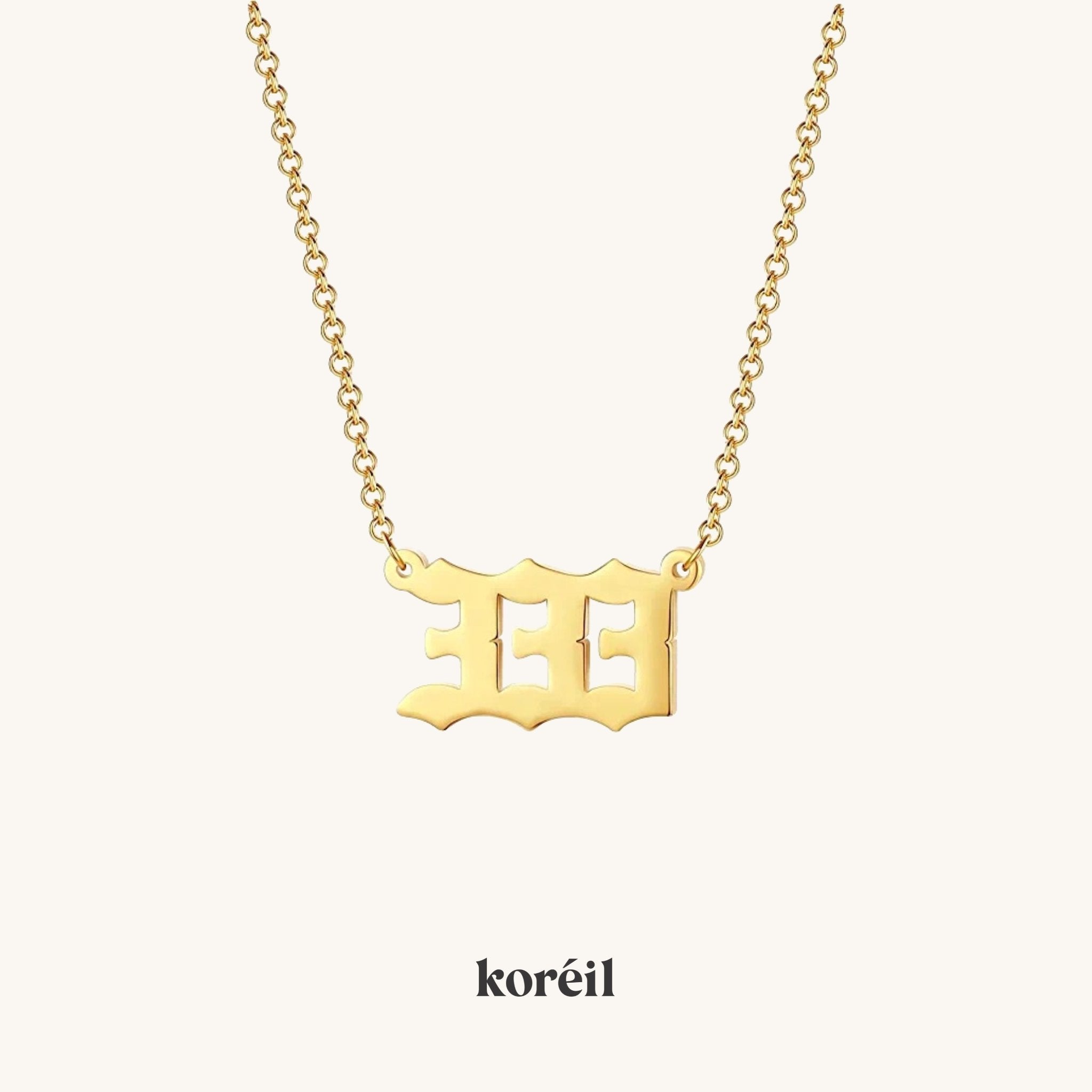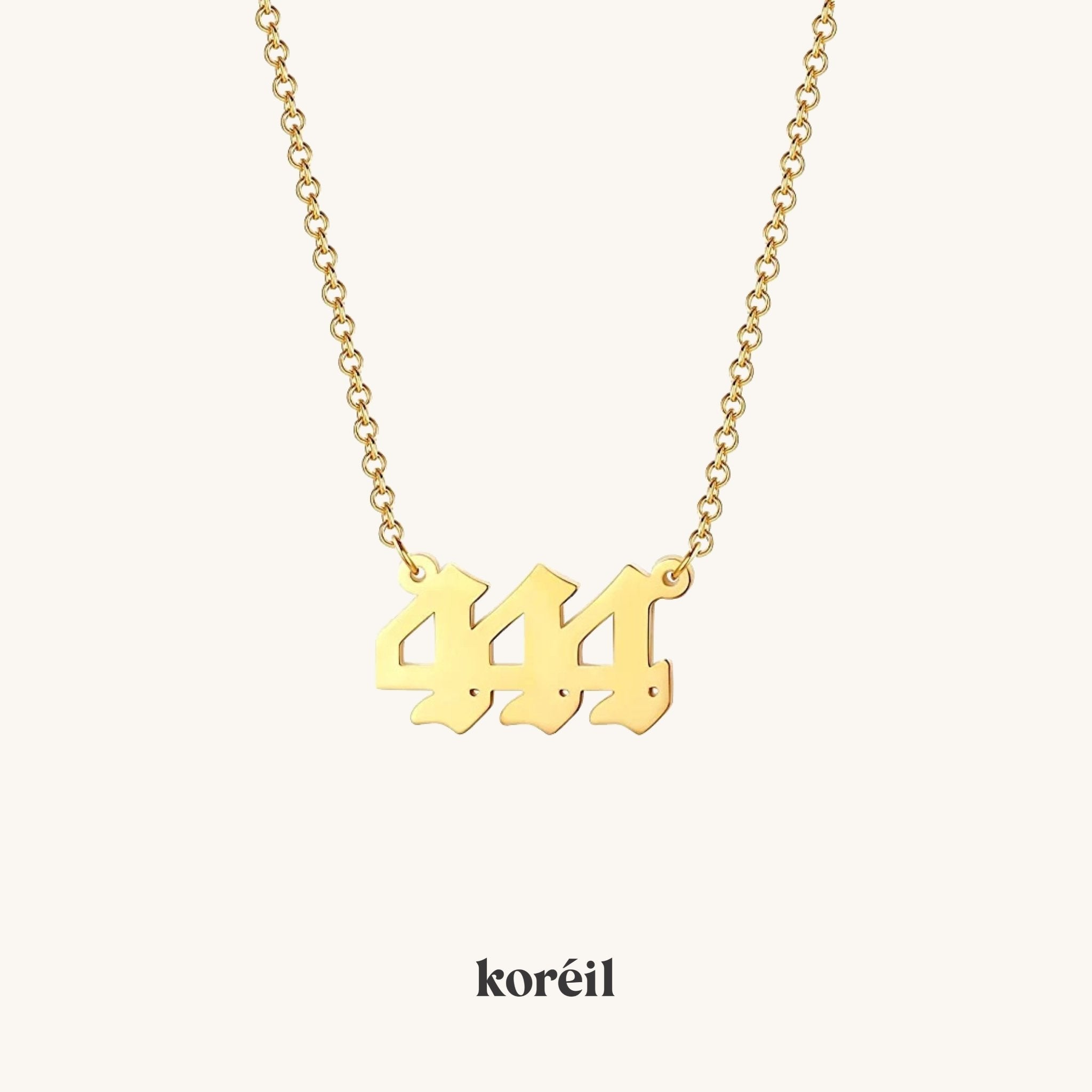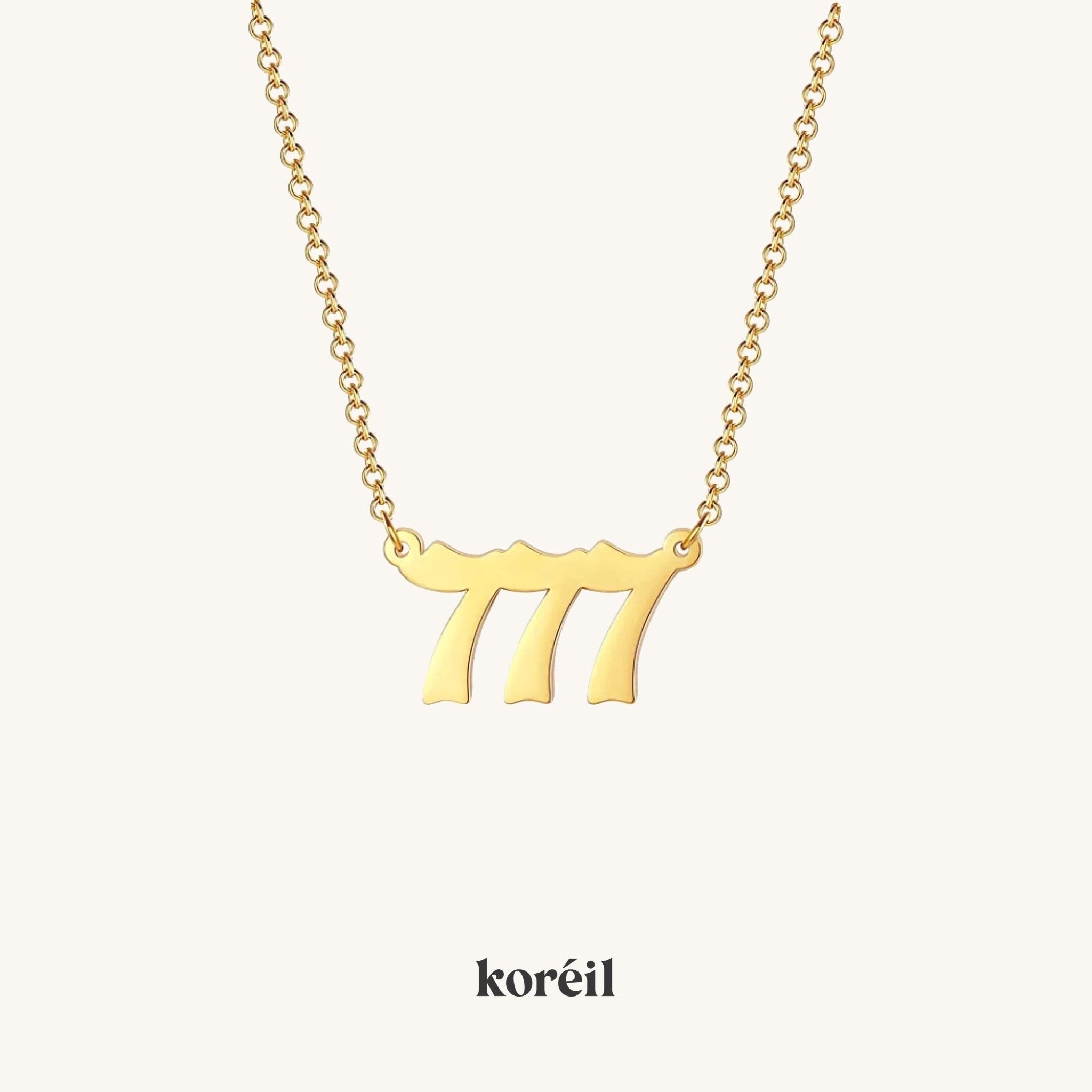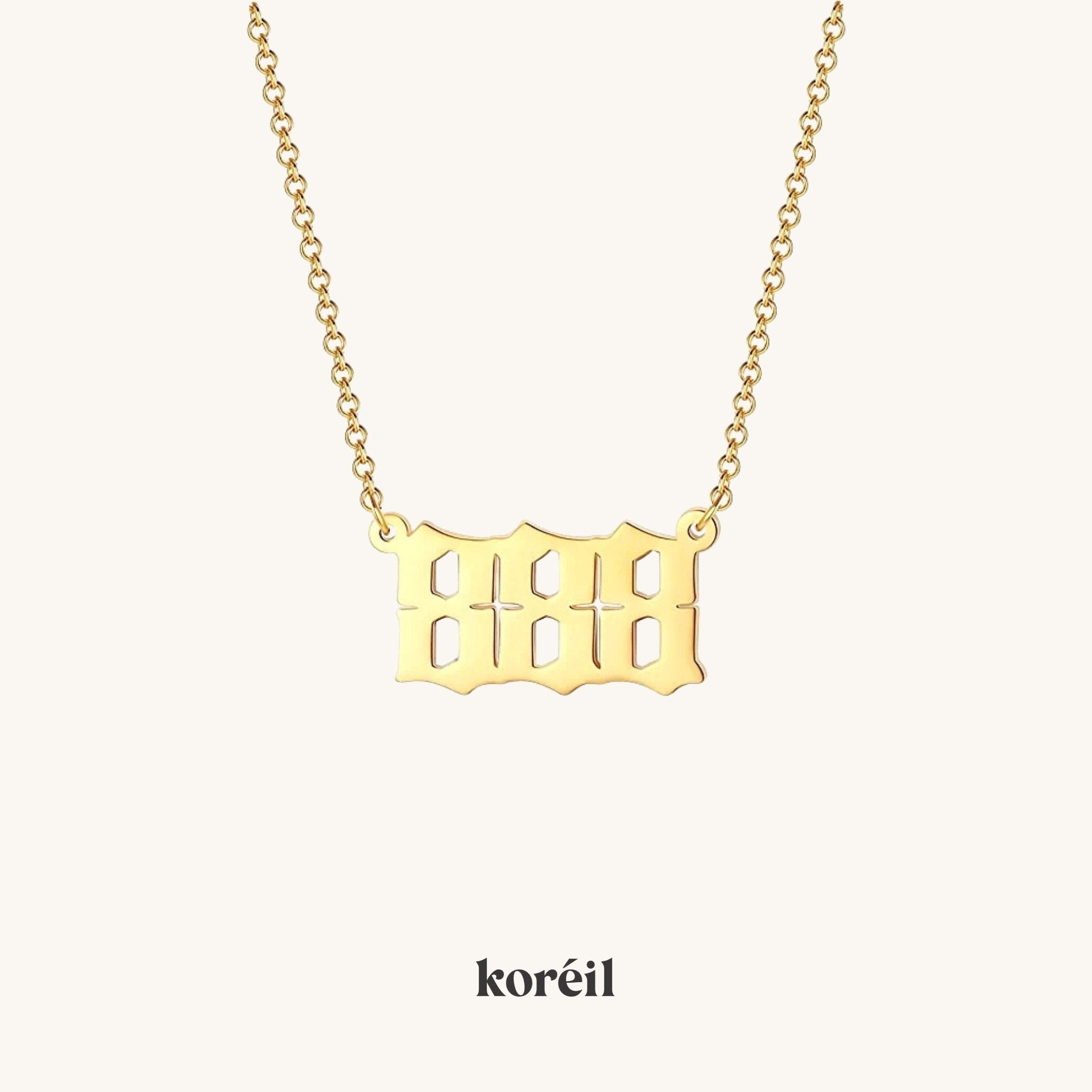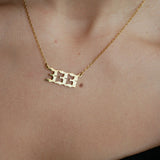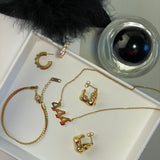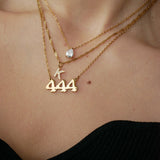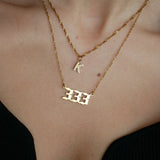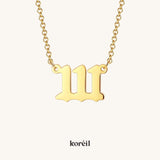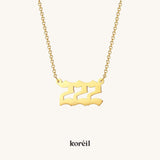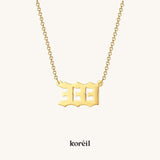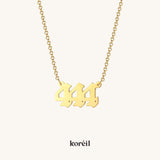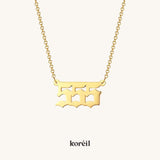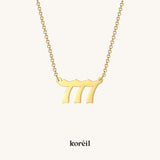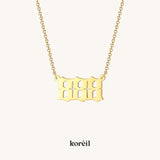 Angel Number Gold Necklace
Description

A divine and personalized touch to your everyday ensemble, our Angel Number Necklaces boast an elegant polish and a unique font that elevates each numeral. Suspended from a delicate cable chain by their upper edges, the numbers shimmer in polished gold, emphasizing their significance and the special meanings they hold.

Whether it's a message from the universe, a personal significance, or a reminder of an unforgettable moment, these numbers resonate with many and are close to our hearts. We proudly wear these necklaces ourselves, carrying the power and the messages they convey.

111 - Awakening Energies

Often regarded as an energetic imprint of new beginnings, the sequence 111 resonates with manifesting thoughts into reality. When you see 111, it's a wake-up call from the universe, urging you to pay attention to your thoughts and intentions.


222 - Harmonious Balance

Echoing the vibrations of unity and balance, 222 is a reminder that life is all about the journey and the dualities we experience. When this sequence makes its presence, it's urging a harmonious perspective and assuring that everything is unfolding in the right way.


333 - Ascended Protection

The number 333 carries the energies of the Ascended Masters. When you encounter this number, it's a sign that you are being divinely guided and guarded. This powerful number is an affirmation of your spiritual path and the universal truths you're about to uncover.


444 - Angelic Embrace

Radiating the energies of spiritual enlightenment and guidance, 444 is a sign that you are currently surrounded by angels. They are there to reassure you of their presence and to guide you through challenges.


555 - Winds of Change

A significant indicator of change, 555 is the universe's way of signaling that a major shift is about to come into your life. It reminds you that, with every change, comes vast opportunities and a chance for growth.


777 - Cosmic Approval

The universe is giving you a big thumbs up with the number 777. This angel number serves as a reminder that you're on the right path in every aspect of your life. It's a validation that your thoughts, intentions, and actions are in alignment with your life's purpose.


888 - Infinite Abundance

Symbolizing the infinite nature of the universe, 888 resonates with the universal spiritual laws of cause and effect. When this number sequence enters your life, expect a flow of abundance, prosperity, and opportunities.

Sizing & Material

- Length: 40 cm
- Width: 1,5 mm
- Number (width): 20-25 mm
- Number (height): 11 mm
- Number (depth): 2 mm
- Extension: 5 cm

- Color: Gold
- Material: 316L Stainless Steel
- PVD coating: 18K Gold

~ Learn why our materials are exceptional
Gold pieces
✓ Waterproof
✓ Tarnish-free
✓ Hypoallergenic
✓ Lasting durability
Gold Vermeil & Silver pieces
✓ Precious metals
✓ Hypoallergenic
✓ Water resistant
✓ Tarnish resistant
Angel Number Gold Necklace
Jewelry care & durability

Waterproof Jewelry

Our jewelry is waterproof and safe to wear in the shower, to the spa, during a workout and even in the sea. By the way, they're tarnish-free too.

Read more about our waterproof jewelry and how to make sure they last.

Jewelry Care

To make sure the jewelry gets to keep its shine and to prolongate its lifetime, we're providing an organic cotton pouch and microfober cleaning cloth with every purchase.

Read more about how to care for your jewelry and why it matters.

Choose Long-lasting Jewelry